Are pocket shawls still in vogue? Pocket scarfs and shawls have come to stay and are simply trending all year long. The fact that these works up pretty quickly and that they come in various levels for every crocheter makes them classy. I love shawls that have pockets, as this gives me the advantage to keep my valuables when I am out and about.
I have gathered some of the best crochet pocket shawls and provided answers to some of the frequently asked questions when it comes to crocheting pocket shawls and scarfs.
This post contains 20 best Crochet shawls with pockets for you to choose from. Most of which are free!
Few things to keep in mind before making your first crochet pocket shawl
If you have ever wondered how to crochet a simple pocket shawl, then you are in the right place. To crochet a pocket shawl, you need to determine the person who is to use the finished shawl. How tall is the person, this would inform the number of chains you need to make at the foundation row.
How to make a crochet pocket shawl for the begininger
Get your materials (yarn, crochet hook and darning needle) ready.
You basically need to first decide what stitch you would use, I have listed some examples of crochet pocket shawls below to serve as an inspiration for you.
After making up your mind as to which stitch you are going to use, start by making a very long chain which should be long enough to go across tyour wingspan (the gap between your finger tips).
Using the decided crochet stitches, continue your scarf ntil you have a comfortable width.
How about addding pockets, you might wonder? To add pockets, you then need to make 2 separate squares. These can be made usign similar stitch to your shawl or scarf. You can also decide to spice it up using a new stitch. Make your pockets.
Place the pocket on the lower ends of the shawl. Using a darning needle, sew 3 sides of the pocket to the shawl, leaving the 4th side out. This would serve as the opening for your pocket.
Amount of yarn needed for a pocket shawl
Depending on the type of yarn you are using, an average of 3 – 5 skeins of yarn would be required for a beautiful crochet pocket shawl. In terms of yardage, this is between 800 – 1450 yards.
What size should a pocket shawl be?
The basic response to this is the measurement between your fingertip to fingertip when you have your hands stretched. This is also called the wingspan. This is the best position to place your pockets. You can choose to add fringes or tassels for additional length and beauty.
I am a begininger crocheter, can I make a pocket shawl?
Yes! Since pocket shawls use basic crochet stitches and require no shaping, you can make your very first pocket shawl as you do not need any special skills to make a pocket shawl. Check out the photos below, for a beginner-friendly crochet pocket shawl pattern.
Adding Hood to your pocket shawl
Hoods add a special look to any outfit and would compliment shawls when added. The elegant Hooded pocket shawl is an example of how to crochet a pocket shawl with a hood. The hood in this example is detachable!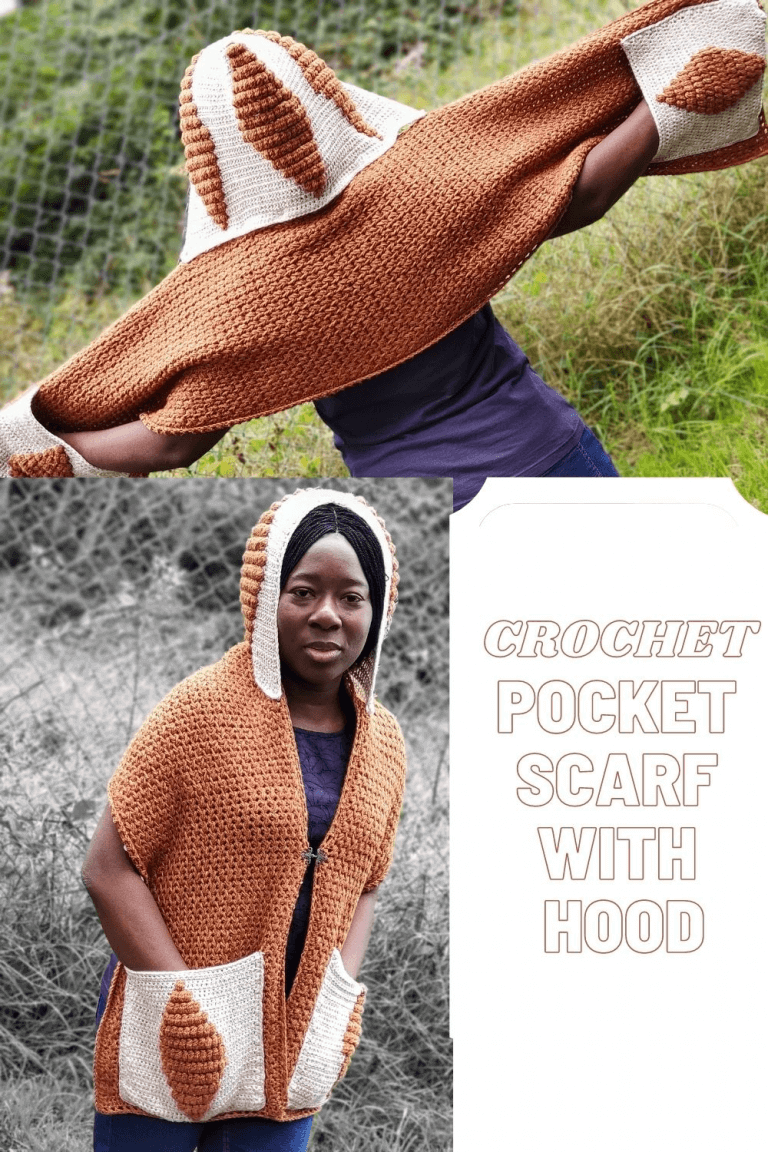 Here are my favorite Hooded pocket shawls from other crochet designers.
As the Goddess of the Hunt, the Artemis Hooded Scarf Free Crochet Pattern is one that I really want to make as it is befitting for a goddess. Not only did this beautiful Shawl have Pockets, but It is also adorned with a hood!
Make a cute hooded pocket shawl using chunky yarn. This beautiful pattern works up pretty quickly also.
Don't you just love that these free crochet pocket scarfs also have hoods? With these pocket scarfs, you get to keep both your hands, head, and neck warm in frosty weather!
Another free crochet hooded pocket scarf pattern is this beautiful scoodie scarf by Nana's craft crochet. The texture and the fit in this pattern are my favorite. Fairy Tale Scoodie Pocket Scarf uses sedge stitch. Read more here
More free crochet pocket Shawl patterns
This beginner-friendly crochet pocket shawl pattern uses simple and basic crochet stitches. Read more
How about a super chunky scarf with pocket? This free pattern works up pretty quickly and you also get to learn how to make crochet cables. Read more here
Not only is this beautiful scarf adorned with pockets, but it also has zippers! This is so cute and you can keep your essentials securely in your pockets without losing them! Read more
I love the texture of this pocket scarf. It is the perfect scarf for spring. It uses a combination of crochet stitches and incorporated some lacy windows using the filet method. Read more
How about a granny square crochet pocket scarf pattern? This scarf is super easy to make and is a perfect match for using up stash yarn! Read more here
The Pine Gap Pocket Shawl Crochet Pattern uses the combination of granny squares for a beautiful finished look. It is an intermediate level. Read more here
Tunisian Boho Pocket Shawl uses the Tunisian crochet technique with detailed instructions to help you make your own beautiful version. Read more here
StarFish Pocket shawl pattern Read more
Puff stitch pocket shawl – another beginner-friendly pattern with step-wise photos. Read more here
How about a scarf perfect for all ages? This easy crochet pocket scarf is written from kid to Adult sizes and would look so beautiful on anyone. Here is the pattern
Do you remember the 6-day baby blanket? well, here is a 6-day crochet pocket shawl pattern. This pattern is written in 3 different yarn weights, which means that you can make it using either a DK (3) weight yarn a Worsted (Aran) (4) weight yarn or a Chunky (5) weight of yarn. I think this is amazing that you can totally use any yarn of your choice. Read more here
The skyline crochet pocket scarf uses the basic stitches with a classy look. This scarf is perfect for chilly evenings or walking with the dog. Read more here
The stitch sampler crochet pocket shawl is great for mastering beautiful texture crochet stitches and also can be made using different colors of yarn for a beautiful outcome. I love how beautiful the finished pocket scarf looks. Read more here
This easy cable crochet pocket shawl looks so beautiful with the texture created by the simple cables. Read more here
The Gaia Pocket Scarf is another beautiful one for colder days. Although this is a paid pattern, it is totally worth it. Here is the beautiful detail for the pocket scarf
Another quick and easy crochet pocket scarf is this beauty. I love that it works up pretty quickly and you should be prepared to make more than one! Read more here
Another size-inclusive pocket shawl is this paid pattern. This can also be converted into a cowl. Pattern details can be seen here.
I hope you have everything needed to make one or more pocket shawls?