A Beginner's Guide to Crochet Rugs
Easy beginner's guide to crochet rug patterns by the expert! Imagine stepping out of bed in the morning and setting your feet down on a soft, cozy crochet rug. Now imagine that this rug is not just any rug, but one you have crocheted yourself. Sounds wonderful, right? With the pro tips by Andrea, it is not only possible but also remarkably easy to bring this vision to life!
I am excited to have Andrea, the talented designer behind Floornament. What drew my attention to her beautiful range of beautiful crochet rug patterns. It is an honor to have her.
This guide is designed to make the process of crocheting a rug as easy and enjoyable as possible. You'll find amazing and helpful tips and a variety of patterns to choose from. Before you know it, you'll have created a beautiful, one-of-a-kind rug that you can proudly say you made yourself.
Pin these crochet rugs for later
A Beginner's Guide to Crochet Rug Patterns
Tell us about yourself
Hi! My name is Andrea. I am a wife and mother of 6 kids and live south of Sydney, Australia. I have recently opened a crochet rug pattern store called Floornament.
Have a look at my range of beautiful crocht rugs on my Website.
Sunscribe to her Newsletter to learn of new patterns
Check out my crochet rug patterns patterns on Etsy, Ravelry, and on YouTube.
What do you enjoy crocheting the most? Is this the same as what you love to design most?
I love to crochet textured projects most of all, especially projects for my home or gifts for my friends and family. I found basic, flat stitches are great when learning to crochet, but I soon found that the more advanced, textured stitches are what I love to use.
This is also what I love to design the most. I love having a design idea in my head and crocheting that idea into a picture using crochet stitches.
Tell us about what inspires you to design unique crochet pieces, especially your beautiful crochet rugs.
My inspiration comes from nature or sometimes it's just different shapes that inspire rug designs. I am a mathematical person, so I find symmetry and shapes very soothing to look at. I think that's why crochet in general, and floor rugs in particular, are my favorite projects to design.
What else are you passionate about other than crochet? other crafts, activities, charities, etc.
I've always been a crafty person. From childhood to adulthood, craft has always been a passion of mine and a great way to express my creativity. I was into scrap-booking before I started to crochet, but found that it took up a lot of space and wasn't very portable. Once I learned to crochet and realized how easy it was to take to a friend's house or sports game, I never really scrap-booked again!
I also love to go camping with friends and family. It's a great way for me to get away from the computer and spend quality time with those that I love.
A lot of my time over the last 20 years has been raising my kids, all of whom have been home-schooled their entire schooling years. This has been my biggest passion. As they have grown up and finished home-schooling, I had more time to crochet and design new projects. I still have 2 daughters home-schooling, but as they are both in high school a lot of their schooling is independent learning, giving me even more time to design.
How did you start your design journey?
My designing started very early on in my crochet journey, mostly from deconstructing projects or from looking at photos of things I wanted to make and copying them. This was mostly for myself to start with. Then I started selling products at markets but found the cost of market stalls and insurance was not allowing me any profit. That's when I decided to start selling patterns instead.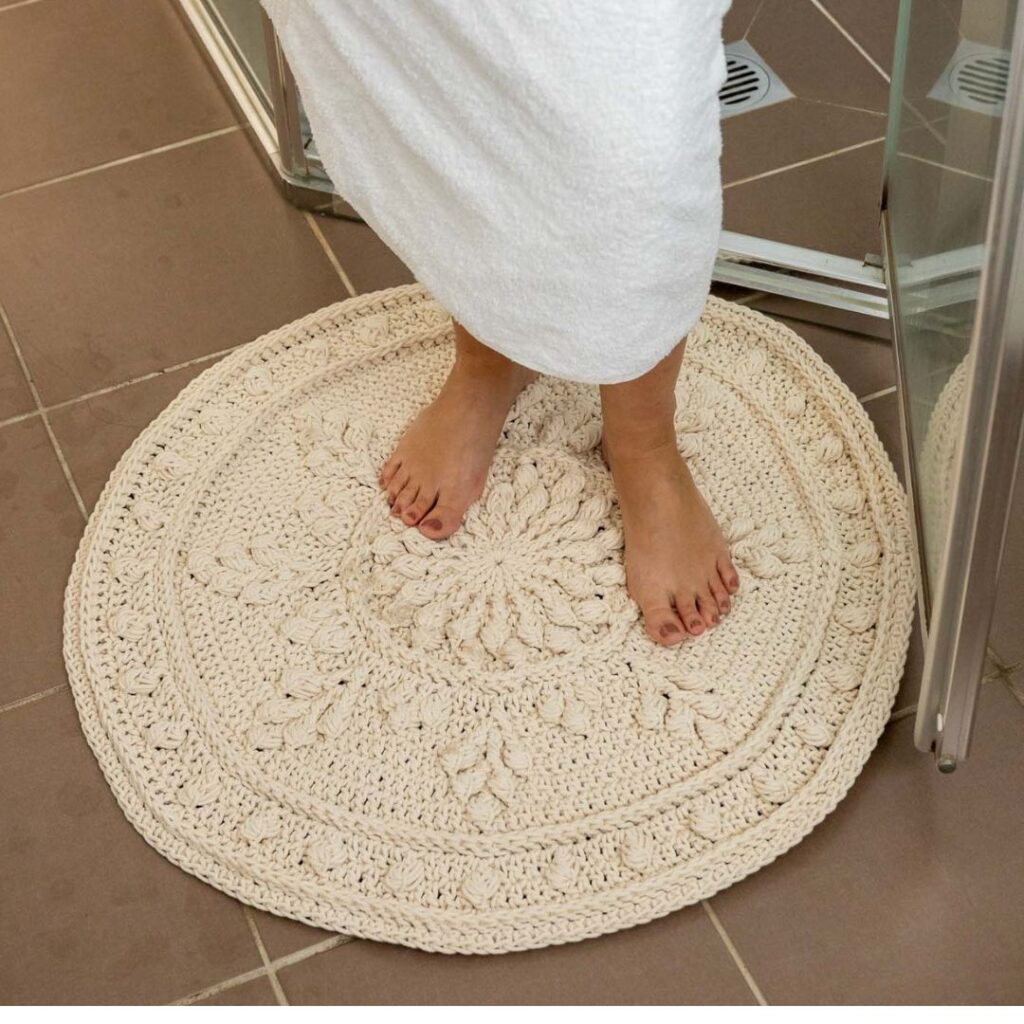 How long have you been designing and where do you publish your patterns?
My first pattern was listed on Ravelry in May 2017. This was for my first pattern store Periwinkle Crochet. Floornament Crochet Patterns is my second pattern store which was launched in June 2023.
These patterns are listed on Ravelry, Etsy, and my website. Floornament also has a YouTube channel where there are stitch tutorials in US and UK as well as right-handed and left-handed videos.
What do you enjoy designing the most?
I love designing floor rugs the most! I love that they can be put on display for everyone to see and that they can inspire others to learn to crochet.
What tips would you give to someone interested in designing?
Go for it!! The best way to learn is to get stuck in and give it a go.
If you want to design, start with a pattern template. You can create your own by looking at other patterns or you can also buy PDF pattern templates that are ready to use. This will help you know what to include in each pattern.
Using standard stitch abbreviations and terminology is a must for designers. The Craft Yarn Council has listed them on their website so you can keep these consistent throughout your patterns.
At this stage I don't have a blog, but maybe sometime in the future.
What goals have you set for yourself for the future?
Designing more rugs is my main goal, but I would also like to create more content for my YouTube channel and social media so that I can inspire others to crochet beautiful projects for their home.
Want a free crochet rug pattern? Sign up to my newsletter for a copy today
FAQ – Beginner's Guide to Crochet Rug Patterns
Can I crochet a rug as a beginner?
With patience and some more learning, a beginner can crochet a Floornament. Every pattern comes with photos of each round so that you have a visual way of checking your work.
What materials do I need to crochet a rug?
Braided cotton cord is the best choice, but this may be substituted for twisted cotton macrame cord, two strands of thinner cotton yarn held together, Chunky/Bulky/Craft/Rug/12ply/Category 5 yarn, t-shirt yarn, or tube yarn.
What type of yarn is best for crochet rugs?
A braided cotton cord is an ideal choice for crochet floor rugs due to its firmness and weight. This helps to maintain the rug's neat appearance without requiring frequent adjustments. In addition, the cord showcases the rug's texture.
Braided cotton cord is also a durable material that can withstand regular foot traffic, while still being soft and gentle on the skin.
Its absorbency makes it well-suited for use as a bath mat and it is easy to clean either by machine or hand washing.
How do I make my crochet rug non-slip?
Whatever materials you choose, the rug may slip on hard surfaces such as tiles or wooden flooring.
While there are several ways to prevent or reduce slipping, the two primary methods I use are either to apply an anti-skid rug spray to the back of the rug or to place a non-slip rug mat (sometimes called shelf liner) underneath it, which can be trimmed to fit the size of the rug.
How much yarn do I need to crochet a rug?
The amount of cord needed varies for each crochet rug. Each pattern listing has the amount of braided cotton cord needed for that specific rug. This information is also listed in the pattern.
How do I care for my crochet rug?
Floornaments made with a braided cotton cord can be machine washed depending on your machine's specifications. If you substitute the cord with another cord or yarn it is important to follow the washing instructions on the label. If unsure, only hand wash your rug. Always dry your rug flat to avoid it going out of shape.
How can I make my crochet rug more durable?
One of the benefits of using a braided cotton cord is that it can withstand regular foot traffic.
Best yarn to crochet with and the ones to avoid
Round crochet placemat-free patterns
I hope you have gathered one or more tips from this beginner's guide to crochet rug Patterns and are ready to make some fun rugs to decorate your space with.