Best yarn to crochet with for beginners (and the ones you should avoid)
There's no crocheting without yarn, picking the very best yarn to crochet with for beginners and even the advanced crocheter is of utmost importance.
Are you looking for the best yarn to crochet with? Then you are in the right place. Not only would you get the best yarn to make certain projects, like blankets, sweaters, toys, shawls, and so on, but you would also get the detailed tips on picking the very best yarn to crochet with. This post also includes the best guide on which yarns to avoid as a beginner!
The best yarn to crochet with for beginners is a lightweight yarn which can either be a DK weight or worsted weight yarn are the recommended yarns for a beginner. These yarn weights can also be written or described in numbers – #3 (double knit) or #4 worsted weight yarn in a single color. When it comes to the type of yarn, a cotton blend is highly recommended. Continue the blog post for the breakdown.
Is there anything like the best yarn to crochet with? While the most respond by saying this is obvious, certain yarns are better or certain projects.
Although picking the best yarn to crochet with depends on quite a number of other things which are discoursed in detail below.
If you go on yarn shopping and are faced with numerous yarn brands in different weights and compositions. Sometimes, this can be cumbersome to deal with. I remembered the early days when I just started out with crocheting. All I wanted was to know which yarn is the best to crochet with.
Is there anything as an absolute best yarn to crochet with?
Over time, every crocheter tends to have their preference as regards their yarn of choice. Over the years, I have discovered that most experience crocheters have a yarn they prefer for different projects.
When making crochet items for babies, a gentle yarn on the skin is generally preferred. Yarn that has certain percentages of cotton – from 100% cotton to cotton blends are preferred.
Garments – This would depend on the season, type of garments, and how much time you have to make them.
Yarns to avoid as a beginner
Black-colored yarns – Crocheting with black-colored yarn or other dark-colored yarn can be challenging as it is very difficult to see into the stitches. If you have no other substitute ls, make sure to crochet in a well-lit area.
Highly textured yarn – This type of yarn can be difficult to crochet with as it is difficult to differentiate and identify the stitches because of the varying textures or thickness in it.
Variegated yarns – This yarn category has multiple colors that are closer to each other. It makes it difficult for a beginner to see and appreciate the stitches in their work. What to do? Instead, pick a single/solid Color of yarn for your project.
Too thin or thick yarns like thread or super bulky yarns – When you use thin yarns like thread, it is usually challenging to handle the fiber and it also makes a project look rather too lengthy in terms of time.
Roving yarns (single-ply yarn) – This category of yarn is loosely spun, which means that the fibers in the yarn can easily come apart – splits. It can be challenging to unravel or undo any mistakes made when Crocheting with roving yarns, especially when it has been left for a while. These yarns become "caked" together and make it difficult if not impossible to "frog" undo a mistake. Instead, pick yarns that are well-spun, and have more ply.
Fuzzy yarns – these include fir faux yarns, fleeces, and eyelash yarns. This category of yarn makes sit difficult to see the stitches you are Crocheting into. I have however provided 24 tips and tricks to help you navigate to hearing with fuzzy yarns in this post.
Best yarns to crochet with for an absolute beginner have classified these yarns into their weight, fiber content, and projects
The best yarn to crochet with according to weight
Lightweight to medium-weight yarn is a good place to start. Examples of DK weight yarn include Lionbrand coboo, turbo Stylecraft
The best yarn to crochet with according to fiber content
Cotton yarn -Eaxple of 100% cotton yarns includes
Pros
Eco-friendly
Perfect for projects intended for use in warm weather.
Strong gives a beautiful stitch definition. Think of this class of yarn when you want to make a project that would last.
Perfect for anyone with allergies.
Machine wash safe.
Cons
Lack elasticity as seen in Acrylic yarns.
Can be costly
Finished projects tend to be heavier than those made using Acrylic.
Acrylic yarn – This category of yarn seems to be the most common and readily available yarn in the market.
Pros –
Cost – Acrylic yarns are cheap and best for anyone on a yarn budget.
Acrylic yarn comes in various weights with lots of colors for you to choose from.
They are easy to wash, and best when machine washed.
They do not shrink but rather.
Acrylic yarn Cons –
They are made from plastic, if you are looking for eco-friendly yarn, Acrylic yarns are not for you.
Acrylic yarns pill a lot.
They are not breathable – Best to avoid them when making projects that would be used in warm weather.
Examples of 100% Acrylic yarn include
Blends
These can be varying percentages of cotton mixed with any other type of yarn.
Example of mixtures includes
1. 50% Cotton, 50% Rayon from Bamboo – Which is the composition of Lion brand Coboo
2. 50% cotton, 50% polyester as sen in Comfy Cotton Blend yarn
Wool
Nylon, polyester, and so on.
The best yarn to crochet with according to the project
When it comes to making your crochet projects, it is important to use the very best yarn. One important thing to keep in mind is that the yarns vary with different designs.
Understanding yarn PLY
The term yarn PLY can be confusing even to experienced crocheters. There are a few yarn terminologies that we need to take into consideration.
Yarn weight – This is simply referring to how thick yarn is. This does not mean how heavy the yarn is.
Location – either UK or US in fact affects the meaning of yarn terminologies. I have added these to the category of yarn below.
So, Ply simply refers to how many strands of yarn are spun together. Note that you can find a thick yarn with just one PLY (just one strand of yarn) and also, another yarn with 6 strands of yarn spun together and this 6-stranded yarn still looks much thinner when compared to the single PLy yarn.
In case you are wondering what PLY refers to, ply is used as a form of identification of yarn weights by the Australians.
Types of yarn according to their weight
Yarn comes in various sizes, this is what is used to classy the yarn into various categories. The types range from the tiniest to the biggest.
According to the craft yarn council, there are eight (8) major types of yarn weights.
These include – Lace weight, superfine, fine, light, bulky, super bulky, and Jumbo.
The names above are a form of classification with numerous yarns under each class.
0 – UK Lace Weight/ US Fingering weight/ Crochet thread
Yarns that are fingering and crochet threads fall into this category. Lace weight yarn is perfect for super lightweight projects from knitting and crocheting. Items that can be made include earrings, dollies, shawls, and even garments. You need extra loads of patients when projects with this weight.
1 – Super Fine/UK 4PLy/ US Fingering / Sport
Sock, certain fingering, and baby yarns fall under this category. While yarns in this category are thin and much lighter to work with, they are somewhat thicker than the yarns under laceweight. These make the best types of socks, lightweight baby projects, and even make the best shawls and garments. If you crochet slowly, this might also not be the best weight of yarn for you to crochet with.
2 – Fine
Yarn under this category includes any yarn staged sport weight, and certain baby yarns. Most people classify superfine and Fine weights of yarn as the same. As such, similar projects as those listed above would be perfect.
3 – Light
Yarns under this category include Dk (also called Double Knit), and light worsted weight yarns.
Lightweight yarns are perfect for crochet garments such as crochet tops, crochet sweaters, cardigans, and accessories like crochet shawls, scarfs beanies, and cowls. This yarn is best for a beginner and perfect for almost all crochet and knitting projects.
4 – Medium
Yarns under this category include worsted, Aran wights. Note that lightweights worsted yarns are included under #3 above. Yarn companies manufacture worsted weight yarns in 2 different categories. It is crucial to take note when purchasing yarn.
5 – Bulky
Yarns under Bulky weight include yarn tagged as Chunky yarn. This yarn makes pretty crochet projects that work up pretty quickly. Pair chunky weight yarns with a larger size of crochet hooks and you would have your finished project in no time. This weight of yarn is best for a beginner crocheter.
6 – Super Bulky
Yarns in this category are tagged as super bulky and Roving yarns.
7 – Jumbo
Yarn in this category are pretty heavy and makes perfect super fast projects. Some even use it for arm knitting or crocheting. If you are fast and want to complete a blanket at a sitting or weekend, then this weight of yarn is the best for you to crochet with.
| | | |
| --- | --- | --- |
| Numbers | Yarn Examples | PLY |
| #0 | Lace | 1-3 |
| #1 | Superfine | 4 |
| #2 | Fine | 5 |
| #3 | Light | 8 |
| #4 | Medium | 10 |
| #5 | Chunky | 12 |
| #6 | Super Chunky | 14 |
| #7 | Jumbo | 16 |
How to identify yarn weights without labels
There are situations when yarn labels can not be seen and one is desperate to identify the weight of yarn.
Wrap per inch is a technique perfect for identifying yarn weight.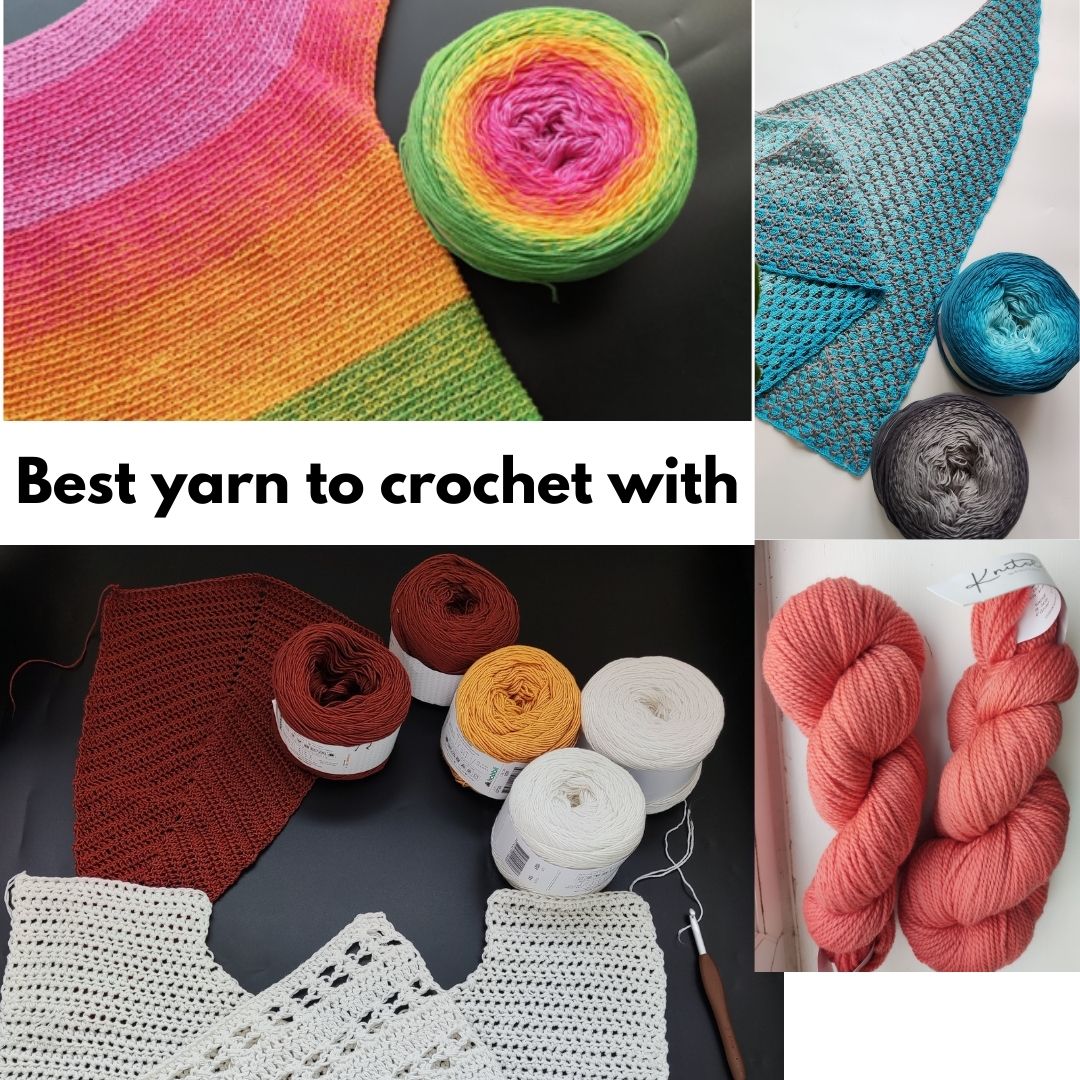 I hope the next time you find yourself in a yarn store, or ready to order yarn online, you would be confident with the guidelines provided in this post and pick the best yarn for your next crochet project.