Easy Crochet Plaid Blanket
I have always loved and hoped to design a crochet plaid blanket, I finally made one, and I am so excited to share this beauty with you all. Meet the Poinsettia crochet plaid blanket – a 20-squared-textured blanket.
The plaid-style blanket pattern will be available as a free pattern here on the blog! You can upgrade to the premium version for the PDF. When you upgrade, you will also get the following;
A full breakdown of the yardage needed ahead of time tells you how many yards are needed for each color in one square and the total for the number of each of the squares.
A color tracker sheet – You can write the colors you intend to use in front of each square to make it more visual.
A square tracker – You can color the number of squares you have made for each square
Different arrangements for your squares. This can help you picture how to arrange your squares if you prefer not to use mine.
A detailed PDF explaining how to change colors effortlessly when crocheting with more than one color.
5 different square arrangement versions of the squares and the joinings. This saves you time from coming to my blog to get each square pattern.
When you get the premium PDF version, you also get

The pattern for each square 24 hours before it goes live here on the blog!
Crochet plaid blanket details
This easy plaid blanket will be made as a crochet along (CAL). There are 20 different squares made using 6 different colors.
My version uses the following shades – Black, White, Silver, Grey, Red, and Burgundy. You can customize your blanket by using your desired color combination.
Each square measures 11″ by 11″, and the finished measurement of this blanket is 50″ by 65″
See the dates below for the release dates of the squares.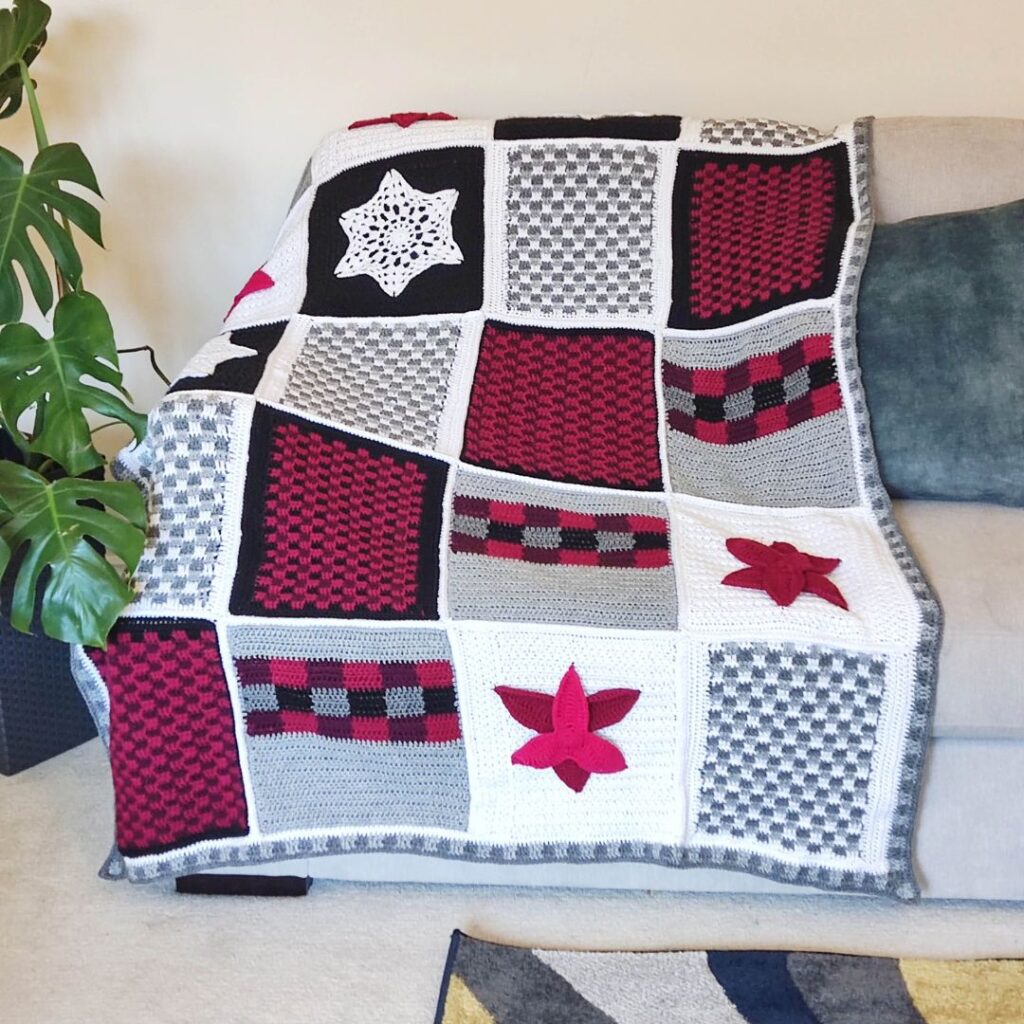 Dates for the CAL
This Crochet Plaid Blanket will be available as a free pattern here on the blog with an option to purchase the PDF!
If you don't want to miss any updates, here's how to stay in the loop
Don't want to miss any new updates, subscribe to my newsletter to be the first to in the know.
Join my Facebook community
Follow me on Instagram @crochet_fosbas
This easy Crochet Plaid Blanket promises to be all shades of awesome Crochet along. You do not want to miss it!
Material list for this Easy Crochet Plaid Blanket pattern
I have used 6 different colors for mine. You are welcome to use similar colors or go with your own version! If you intend to substitute the colors, use the yardage below as a guide.
Yarn Detail – For this plaid blanket, you need any DK-weight yarn. You can use whatever brand of DK yarn is available to you. I have used Stylecraft Bellissima DK, #3 (100% Acrylic, 293 yards / 286 meters per 3.5 oz/100g skein).
See some array of DK weight yarn on KnitPicks or from Lionbrands.
Total estimated yardage needed per color
Black (A) = 3 Balls, approximately 293 yards / 286 meters
Bright red (B) = 3 Balls, approximately 293 yards / 286 meters
Burgundy (C) = 1 Ball, approximately 293 yards / 286 meters
Grey (D) = 3 Balls, approximately 293 yards / 286 meters
Silver lining (E) = 5 Balls, approximately 293 yards / 286 meters
White (F) = 5 Balls, approximately 293 yards / 286 meters
Sizing and finished measurement of the plaid blanket
The finished measurement after blocking is 50″ by 65″.
The blanket consists of 20 separate squares, each made into 11″ by 11″ and then joined together. A few rounds of the border were then made.
Gauge – 14 sts over 8 rows = 10 cm/4" square made in dc
Hook & other materials
5 mm Crochet Hook
Darning needles
Scissors
Tape measure
Pattern Notes
Please kindly read through the pattern before starting.
Any other #3 weight yarn can be substituted.
Use similar weights for all your squares!
Difficulty Level – Intermediate
Terms – US Terminology
Square one – Poinsettia Crochet Square (4 pcs)
Square two – Easy Plaid Square (Make 5)
Square three – Snowman crochet square
Square Four – Plaid in Red, Black and Burgundy
Square Five – Crochet Star Square
Square SIX – Plaid in Red, Black and Burgundy
Other fun crochet blankets on the blog