Best Round Crochet Patterns
Welcome, fellow crochet enthusiasts! I'm excited to share with you my best round crochet patterns.
Round crochet patterns have always held a special place in my heart. Their symmetry and versatility make them super easy to design and I have discovered that these are popular among other crocheters also.
I am eager to share with you the best 30-plus round crochet patterns, most of which I have personally made and cherished during my crochet journey.
Tips and Tricks for Round Crochet Patterns
Most of the round crochet patterns in this article are beginner friendly. This means they are basically a repeat of the basic round and use the basic crochet stitches. Mastering round crochet patterns does not happen overnight. But you can improve your skills significantly with a few tried and tested techniques I have picked over the years.
Understanding and mastering the magic ring: The magic ring or circle is a crucial starting point for many round crochet projects. It helps in creating a tightly closed center, which is especially important for patterns like doilies and hats. If you find making the magic ring tricky, you could substitute it by chaining 4, and work the indicated number of stitches into the 4th chain.
Techniques for maintaining circular shape: Keeping a perfectly round shape can be tricky. It's important to increase the stitches uniformly in each round. Remember that the number of stitches in each round should increase proportionally to the number of the round you are working on.
Changing colors and yarns seamlessly: If you are working with multiple colors, try carrying the yarn inside your project rather than cutting it each time. This makes the color change seamless and saves you from weaving in ends.
How To Crochet A Flat Circle?
Crocheting a flat circle involves increasing stitches uniformly in each round. Creating a flat circle can be made using any of the crochet stitches.
You need to gradually increase the stitches by the same number in each round. Once you stop increasing, your flat circle starts curling up!
Projects that can be made with a crocheted circle
You can absolutely crochet any project with a crochet circle. Here are a few projects, in rounds. Doilies, Coaters, Blankets, Mandelas, Placemats, Dreamcatchers, Cushion covers, Appliques, and Crochet Accessories like Earrings, bags, cowls, and Garments. Let your imagination take the lead!
The Ultimate List of Round Crochet Patterns
Crochet Round Potholder
With crochet round potholders, say goodbye to burnt fingers or tabletops! Here are my favorite quick and easy, crochet round patterns for potholders.
Double-thick round potholder pattern – I love this extra thick crochet round potholder. Mine has been super useful. You need to make two separate round crochet pieces and then join them together using a round of single crochet. I added a cute handle which makes this super cute.
Yarn – Any 100% worsted weight yarn is perfect. I made mine using 24/7 cotton. Get the free pattern here.
Berry Pie Pot Holder – The realistic pie pot holder has some sweet, juicy berries beneath the pie crust. This pattern uses puff stitches to create the berries. Made using 100% cotton – Worsted weight the pattern here
Hexie Motif Hot Pad
This is a beginner-friendly round crochet pattern, the best part is that this easy crochet hot pad pattern is quite easy to make with simple stitches and increases.
Finished measurement = 7.5" diameter
Yarn – Any worsted weight yarn in about 150 yards (total of all the colors needed for one hot pad).
Designer – Green Fox Farms Designs
The free pattern can be seen here
Grapefruit Potholder Pattern
How beautiful is the next crochet round pattern the Grapefruit pot holder? I love the simplicity and the realistic look. It is made using basic crochet stitches and works up pretty quickly also. Made using thread, but any other weight of yarn can be substituted. This means you can stop the increase once you have your desired measurement.
Publisher – The spool cotton company
Round Crochet Mandalas
Circle crochet mandalas are a beautiful addition to any space. These can be made into coasters, placemats, doilies, wall hanging, central pieces on the table, Afghans, and so on!
I have a ton of stunning crochet round Mandela's in this post.
Tudor Rose Mandela
This Mandela wall hanging was so fun to make. I hung it on the wall in my Kitchen, and it makes me happy to see it every day.
Free pattern for the Round Mandela Wall Hanging
Yarn – I made this Mandala using 3 different colors of sport-weight yarn but you can make yours in any weight of yarn.
Amazing Grace Mounted Mandala
The beautifully mounted Mandala displays beautiful art. This mandala can be mounted on a hoop, hung on a wall, or pinned to a foam board to be displayed on a plate stand, or however you see fit.
Yarn – You can use any weight of yarn for this project, any weight from sock weight yarn to worsted/aran weight. The weight will determine the amount of yarn needed. But about 500 – 800 yards.
These make lovely dream catchers, placemats, and doilies. You can even make this Mandela into an Afghan.
Amazing Round Mandela Free Pattern
Mandela Mandala
The cute Mandela is one with a beautiful texture and a perfect stash buster! You could even make this using different colors for each round.
As with most of the crochet circles Mandela's, this project can be made using any yarn weight.
Finished measurement – 14 inches (36cm) in DK, or 22 inches (56cm) in worsted.
Granny goes Mandela Round Placemat
How lovely is the set of color-coordinated Mandela's? These would make an elegant statement on any Dinning table they are placed.
I love how detailed the instruction is and how well written with stepwise photos that are provided. Needless to say, this is a very easy-to-follow-free pattern.
Yarn – Suggested yarn includes = Sugar & Cream" or "Peaches & Cream", made in 5 different colors.
Finished Measurement – Approximately 16″
Designer = HeckathornTurnedWood
Here is the free pattern for this amazing round Mandela Placemat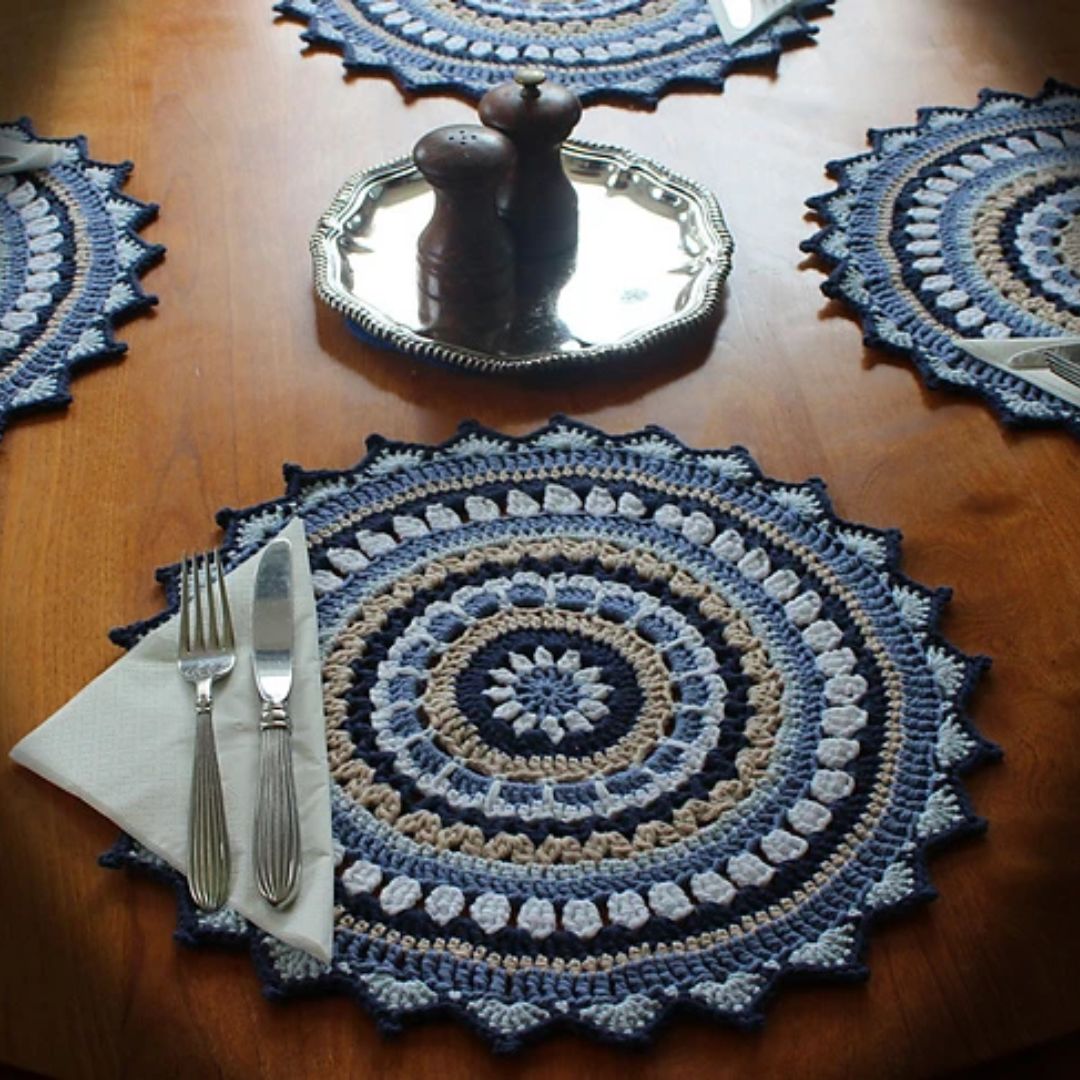 Tides of Change Round Afghan
Yarn details: Worsted/Medium/Aran/4, with the prototype made using Red Heart Super Saver in about 4,004 yards/3,661 meters
Finished measurement – 87in/221cm
Designed by Frank O'Randle. Here is the free pattern
Round Crochet Placement Patterns
Bobble Round Placemat
I had so much fun making this placemat and even more with each use. For this placemat, I used 24/7 cotton, 100% cotton the perfect yarn for placemats, as it helps with absorbing any spillage.
This project uses the basic crochet stitches which makes it perfect for beginners. You only need less than 200 yards for this project.
Simple circle placemat
Yarn – Lily Sugar'n Cream or any 100% cotton yarn can be substituted. Estimated yardage = approximately 200 yards.
Finished measurement = Approximately 16" in diameter. Designer – Stitching Together.
Granny Circle Placemat Patterns
This pattern is perfect for all lovers of the traditional granny stitch. I love the fact that it is made in rounds and with clear and stepwise instructions.
These Granny Circle Placemats are the perfect project for summer. I love how the edges are made in different bright colors. Would make a cute placemat with a bowl of fruits carefully placed on it!
Finished granny placemat measurement – 14″ across.
Granny circle placemat-free pattern
Easy Crochet Round Blankets
Circle baby blanket – This mesmerizing crochet blanket is sure special for your bundle of joy! This is a beginner-friendly pattern made in swirls, a color per round.
Yarn – Made using Bernat Baby Blanket and Bernat Baby Blanket Sparkle.
You need about 528 yards (483 m) and an 8 mm crochet hook for this beautiful round baby blanket.
Circle baby crochet blanket free pattern
Round Jacob's Ladder Blanket for Babies
I love how beautifully this round baby crochet blanket works! It is a perfect stash buster and will make every new parent happy to wrap their new bundle of joy.
Yarn – Any worsted-weight yarn can be used in colors of your choice.
Designer – Bev's Country Cottage
Jacob Ladder Round baby blanket free pattern
Sunshine Round Crochet Baby Blanket Pattern
This lightweight round baby blanket is the perfect wrap for any newborn. Made in sportweight yarn. You need about 800 – 1140 yards (732 – 1042 m) for this project.
The finished measurement is about 43″ in diameter, from point to point.
Designer – Virkkaa pikkuväelle
Free pattern here or the PDF here.
Crochet Round Earrings
The Archimedes Spiral Earrings
This easy-to-follow circle crochet earring is a quick project of only 6 rounds! A perfect project made using approximately 20 – 30″ of yarn.
You will need # 10 cotton crochet thread, a 1.5mm crochet hook, and 1 pair of fishhook French earring hooks.
Finished Measurement – 1″
Designer = Yarn-bending
Blue-tiful Earrings
I have always enjoyed Amber's earrings and have made a couple.
For your earring to retain its shape, Amber advised using a stiffening agent such as Stiffen Quik or any other brand of clear-drying fabric stiffening spray
Yarn suggestions and hook sizes with the finished measurements
Curio #10 thread, 1.75mm hook: 2 1/8″ x 2 1/8″
DMC 5 embroidery thread, 1.75mm hook: 2 1/4" x 2 1/4"
Curio #3 thread, 2.5mm hook: 3 1/2″ x 3 1/2″
Designer – Bliss This By Amber.
Get the Blue-tiful round crochet earrings free pattern here
Round Home Decor Patterns
Round Decoration Trays
How cute is this set of round crochet trays? Designed with a leather base in 3 different sizes – Small, Medium, and Large.
The Finished Measurements
Small: Base approx. 7.9"(20 cm), Height approx. 1.4"(3,5 cm).
Medium: Base approx. 9"(23 cm), Height approx. 1.4"(3,5 cm).
Large: Base approx. 11.4" (29 cm), Height approx. 1.4"(3,5 cm).
Made using Hobbii Ribbon Yarn with approximately 75 (95, 115)grams respectively.
Free Pattern for the decorative basket
Round crochet rugs with free patterns
Lotos Mandala Rug
I have always loved crochet round carpets and could not be more excited about this beauty. The Lotos Mandela rug is made with overlapping petals made by front-post stitches. Made in a spiral, so there is no awkward joining. Designer – Magic Carpet Studio
Approximately 3000 meters of cotton string and a 5 mm crochet hook
The finished Measurement of the Lotos Mandela Rug is about 164 cm (65 inches).
Lotos Mandela Rug Free Pattern
Flower Power Circle Carpet
The flower power carpet is one that works much quicker. Made with super bulky weight yarn and a 9 mm crochet hook and in a spiral. Designed – Magic Carpet Studio
Yarn for this round flower crochet rug
You can make yours in any yarn weight, which will provide a different size. You will need about 1600 m.
Flower Round crochet rug free pattern
Giant Dolly Circle Crochet Rug Pattern
How cute is this lacy crochet round rug pattern?
Yarn – Any super bulky weight yarn can be used. This prototype was made using 2 skeins of Zpaghetti t-shirt yarn and a size 12mm hook.
Designed by Creative Jewish Mom
Get the Giant dolly round rug here
Solar Round Crochet Rug Free Pattern
If you are looking for a quick round crochet rug pattern, this is your go-to! It is only 8 rounds. I so much adore how cute this project is.
Not only are you able to customize the rug, but you can also turn yours into either a doily, coaster, placemat and so on!
The pattern calls for a super bulky weight yarn but can be made in any yarn weight. If you do not have a super bulky yarn, do not worry. You can also use multiple strands to achieve your desired thickness.
Designer – Blue star crochet
Crochet circle bag free patterns
Crochet Lunaria Round Bag
This is a bag with elegance. This is a detailed pattern with tips to help with lining your bag. The pattern has a video to help you make yours.
You need a worsted-weight yarn of about 600 yards and a button.
Designed by Naztazia
Lunaria Bag Free Pattern
Simple Round Crochet Bag Pattern
I love everything about this bag! The center flower is my highlight. This simple-to-follow pattern uses basic crochet stitches.
Yarn – Made using any worsted-weight yarn in about 600 yards.
Simple round bag finished measurement = 16″
Designer – Julie Black Designs
Get the circle bag-free pattern here
Crochet round coaster-free patterns
Cotton Candy Coaster Set
I could not resist the beautiful round candy coaster set. It consists of a container and sets of coasters. The container was designed to contain 6 beautiful coasters.
With a maximum of 5 different colors of yarn and about 150 yards of yarn, you will have completed the 6 coasters!
Finished measurement = 10 cm.
Designer – Bokky's Home
Cotton Candy Coaster free pattern
Crochet Sunflower Coaster pattern
A fun project that can be made in just a sitting. I love that this sunflower round coaster is pretty thick which gave stability.
With any DK weight yarn, in about 200 yards you can make this round coaster. If you love sunflowers, then you should have a look at this detailed post with lots of ways to incorporate crochet sunflowers into your home decor.
Bobble Round Coaster Pattern
I love that this circle crochet coaster project can be made in about 30 minutes. This makes it a perfect gift item.
You can make yours in a single color or more. I used 24/7 cotton and it gave it a great texture.
You need just 60 yards in total for this coaster.
Here is the free pattern for the bobble round coaster
Ombre Crocheted Coasters
This beautiful set of crochet coasters is perfect for a rainbow or other themed party.
Yarn – Worsted weight yarn
Designer – Crafts.tutsplus
Ombre Round Coaster free pattern
Classy Round Crochet Coaster
A simple yet classic crochet round coaster-free pattern made in just 9 rounds. Uses simple crochet stitches and is super easy to follow.
You can use any weight of yarn for this project! Just note that thicker-weight yarn will produce a wide coaster.
Designer – Sharon Gardner
Crochet accessories made in round
These projects are not made in a flat circle like the patterns above but in rounds with no increases!
The Textured crochet cowl is my favorite neck warmer.
It is made in round and uses half double crochet and single crochet to create an amazing texture. Crochet textured cowl-free pattern.
Get the free pattern of this cowl here
Crochet round Easter egg-free patterns
These eggs are simple to make and after the first two pieces, you can make yours without checking the pattern again.
Perfect stash buster can be made with any weight of yarn in colors of your choice. This is a good pattern to practice simple increases and decreases!
Crochet Baskets made in round
Crochet baskets are a fun way to use your knowledge of crocheting in rounds. I have a couple of crochet round patterns for baskets that you will love.
Crochet Easter Basket
I made multiple and have made a mini version for you. The bigger basket uses worsted-weight yarn of about 300 yards and you can even add a beautiful flower applique. The mini basket uses Dk weight and 50 yards of yarn.
Crochet big flower basket free pattern and Mini basket pattern.
Crochet candy Dish Round Basket
A super cute candy dish pattern that can be made in a sitting!
You need any DK-weight yarn in colors of your choice. It starts off with a flat circular base and then a few rounds of no increase for the sides.
This round candy dish is the perfect decoration for your work table. You can increase the dimension of this candy dish by using a thicker weight yarn
Conclusion
It's been an incredible journey creating these round crochet patterns, and I hope you find as much joy in crafting them as I did. Don't hesitate to share your thought with me.
I can't wait to see your beautiful makes! Come share your projects with me and the crochet community on Facebook and on Instagram.

Fosbas