One Skein Shawl Pattern- Shanae Wrap
The one skein crochet shawl pattern you must have in your closet!
It's a great privilege to have Bernadine here on the blog with her one skein shawl pattern, the Shanae wrap! She is the talented designer behind Menmyhook.
If you have been looking for a classy, easy crochet shawl with a beautiful stitch pattern, her Shanae Wrap is your go-to pattern! The fact that this pattern is easy to make, uses basic crochet stitches, and that it's a repeat of basic rows makes this wrap my favorite! This would make a fabulous gift for yourself (when was the last time you made something for yourself?) or for your loved ones.
Inspiration
Really excited to share my latest design with you – thank you Susan for inviting me. The Shanae wrap is a design I sort of imagined last year but didn't do anything with it. I love shawls and wraps, and I haven't made one in a while so it was the first choice of things to design and share.
Shanae, like all my shawl and scarf designs this year, is named after female members of my family. This is an easy beginner wrap pattern that works up really quickly. I wanted to include something stylish, easy to make and with wide appeal hopefully, I have achieved that with this design. I get asked a lot – who wears scarves and shawls these days – erm I do. This can be worn as a scarf, shoulder wrap, headscarf if you know how to wrap it, sarong – the choice is yours.
If you would like to buy the premium, ad-free copy of the pattern you can check it out here on Ravelry or Etsy.
If you love the Shanae wrap, you might also love the following patterns;
Pretty in purple Shawl – A convertible shawl styled as a Vest
Crochet Pocket Shawl with detachable Hood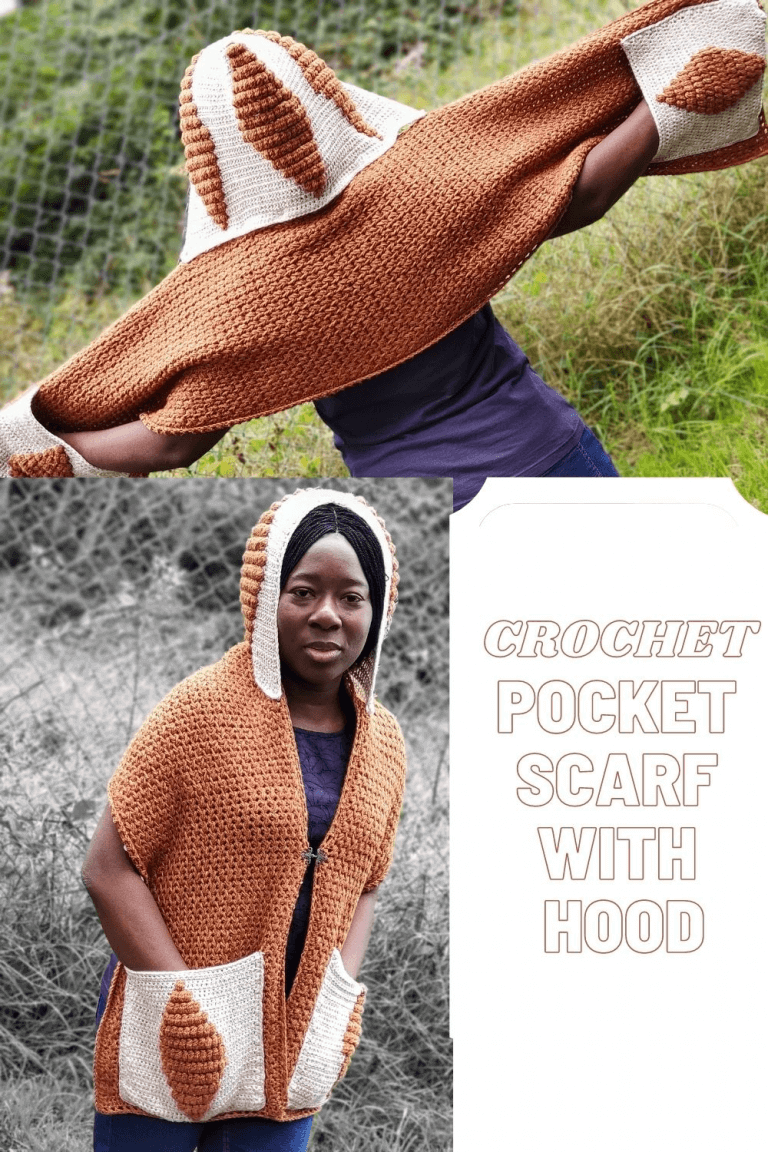 One Skein Shawl – FREE easy rectangle shawl pattern
The pattern is written in US crochet terms.
Skill level: Beginner – Easy
Yarn: 1 x Hobbii Twister, or Scheepjes Whirl or similar in any colour
Hook: 4mm, or whatever size you need to achieve gauge. Get yourself a beautiful hook here, using my affiliate link
Size: 16in x 68in
Gauge: 5 repeats x 10 rows = 4″
Gauge – I am not a slave to it so please don't feel like you need to be. I have included a gauge and final size in the instructions but it is more important that you have uniform fairly tight stitch work rather than stick to my gauge. An inch, either way, will not make a difference to the final result. If you decide to stick with the Twister or similar and your stitches are a bit lose – go down a half, or maybe a whole size depending on which hooks you have to hand. I am a fairly tight crocheter so the smallest hook I use with this type of yarn is 4mm.
Stitches used:
Double Crochet – dc
Chain – ch(s)
Skip – sk
Stitch – st(s)
Special Stitches:
Fan – (2dc, ch1, 2dc) in the next st
Open Shell – (dc, ch1, dc, ch1, dc) in the next space
Notes:
This wrap is worked from the bottom up
Ch3 – counts as a dc
Instruction:
Chain 95
Row 1:
Fan (see special stitches) in the 5th ch from the hook – (ch4 counts as dc and ch1), [sk3, fan in the next st], repeat until 2 sts remain, ch1, sk1, dc in the last st. Turn
Row 2:
Ch3 (counts as a dc throughout), [open shell (see special stitches)]* in the ch1 sp of the next fan, repeat across until the last ch1 sp, dc in the top of beg ch3. Turn
Row 3:
Ch3, sk dc and ch1 sp, fan in the next dc, [fan in the mid dc of the next open shell], repeat until the last open shell, dc in the last dc. Turn
Row 4 – to end:
Repeat rows 2 and 3 until work measures 68 – 70ins long, ending on row 3
Final row:
Ch4, sc into the center dc of the next fan, ch3, [sc into the center dc of the next fan], repeat until the last fan, ch1, dc into the last dc.
Tie off and secure your ends.
Blocking* will open the stitch pattern further, and increase the size of this wrap 1-2 ins
* If this is your first time blocking – I wet-block my wraps. I washed it on the lowest setting in the machine and then pin it out using blocking pins and my son's foam playmats. I have used my drawing pins when I didn't have enough blocking pins in the past.
That's it – a super simple wrap that is really effective in any color. I hope you enjoyed this one skein shawl pattern, and look forward to seeing your Shanae Wraps. Do tag me with your makes using my social media handles listed below.
Remember you can grab the Print-friendly copy of this pattern on Ravelry or Etsy.
About the Designer
Hi, I'm B, mum to two mini's, shoe lover, armchair sports fan, collector of random useless bits of information, and designer at Me n My Hook. I hate talking about myself and taking photos which the pic probably shows! I crochet mostly as a way to relax and have some mental health time. Generally, my designs are inspired by the need for a gift OR the desire to glam up some corner of my house. That is really 99% of the reason why I start making something. Crochet is one of the few creative arts that I consider myself to be remotely good at, and it's an outlet that allows me to create pretty things I can be proud of and display in my home or gift. My aim at Me n My Hook is to empower others to do the same.
To find out more, come to hang out with me in my Facebook group – I'll be the one hiding behind gifs, pics of my cute kid, lots of blue, green, and purple wips, and not showing my face!
It's been fun, hope to see you and your Shanae Wraps soon,
B x
Blog – www.menmyhook.com
Me n My Hookers Facebook Group
Instagram @menmyhook
Facebook page @menmyhook